Latest News
Here you will find all our News Posts.    
Scroll down the page to read them all.
Subscribe to posts
It's a Tuesday morning spin class in Seattle's Magnuson Park, filled with the same mix of quiet determination and enthusiasm of any group class. Only this class is slightly different: Its participants have Parkinson's disease, and they're pedaling on a tandem bike with a volunteer.
Outdoors For All is the local organization behind the twice-yearly sessions of Parkinson's Tandem Cycling. Their mission is to use outdoor recreation to enhance and enrich the quality of life for kids and adults with disabilities; but this indoor program fits right along with their goals.
Mick Fish just completed his second session of the program. He was diagnosed with Parkinson's at the end of 2015. "I thought, what can I try to do to try and forestall the effects of the disease?"
It brought him to this class. Every Tuesday morning for eight weeks, Mick climbs onto a tandem bike behind his buddy and program volunteer, Jose. "My legs are pretty buzzy, and I have a tremor in my body," Mick explains. "If I don't start walking or doing something, that gets worse; and after a cycling class, it's almost nonexistent."
It's a method supported by science. Researchers with the physical therapy department at the University of Washington recently completed a two year study that found tandem activities (think ballroom dancing, boxing, and tandem cycling) can reduce the effects of Parkinson's and increase mobility.
But the positive impacts don't end there. There's also a camaraderie and a sense of community, as people battling what can be a very isolating disease can come together on common ground. "There's truly a lot of mental stuff: fatigue, anxiety, depression that goes along with [having Parkinson's]," Mick tells us. But he says this class helps by bringing him together with people who understand- and hold him accountable.
Outdoors For All is hoping to expand this class, but they need more volunteers. To learn more about becoming a volunteer or participant in this program, or any of the others they offer, click
HERE
. They also have payment options available and financial help for those who may not be able to afford some of their classes, so be sure to ask!
People living with Parkinson's took to specially adapted bikes at the Cyclopark to raise awareness of the disease.
About 40 people went along to the Gravesend park where they rode on bikes designed to give people with disabilities and mobility problems the chance to join in with other cyclists.
The Gravesend branch of Parkinson's UK arranged it as part of Parkinson's Awareness Week and the Mayor of Gravesham Cllr Greta Goatley popped along for a visit and had a go on one of the bikes.

Alan Lander, who is joint branch co-ordinator with his wife Ann, said: "It went wonderfully. I was overwhelmed by how many people turned up and everybody enjoyed themselves.
"Our members were having a whale of a time. The Cyclopark was absolutely brilliant and gave us whatever help we needed.
"We're having terrific funding problems, like everyone else, and the object of the exercise was to make people aware of Parkinson's and how they can help by raising as much as they can.
"We run a support group, which does exactly what it says. It gives people the opportunity to chat about anything.
"It's very therapeutic. You can talk and get to know each other and realise you're not alone."
The Gravesend branch of Parkinson's UK meets at Chalk Village Hall, Chalk Road, Chalk, from 2.30pm to 4.30pm on the last Monday of the month.
Members listen to speakers and singers, eat homemade cakes and play rock and roll bingo, where they strike off song titles instead of numbers.
There are also sitting down exercise classes and other events throughout the month.
Call 01474 813089 or email Gravesend.parkinson@yahoo.co.uk to find out more.
A cycling class unlike any other you'll find in the Gem State is having a huge impact on the lives of Idahoans living with Parkinson's disease.
Dozens of people are putting in hours at the gym - not just to get in shape, but to overturn the effects of what is often a debilitating disease. What they've found is that there is some incredible healing, and hope, in just the push of a pedal.
Marilyn Simmonds is one of the class participants; she was diagnosed with Parkinson's three years ago. "I had noticed some strange symptoms like jerking with my hand, so it was time to see a neurologist and then I got the devastating diagnosis."
Right away, Simmonds started treatment. First, of course, medicine. Simmonds says, at first, "The medication did help with a lot of the symptoms and yet there was something not quite right…"
So her doctor also recommended exercise, and after just a few rounds in the Pedaling for Parkinson's class, Simmonds says she noticed something remarkable. "My leg wasn't quite as strong, my right leg and my right foot, and then with Pedaling for Parkinson's that really has dramatically changed. I can't even tell a difference now in any of my limbs...My doctor said on my last visit - she said I wouldn't even know you had Parkinsons disease."
That's right: her symptoms, all but gone. And Simmonds' results aren't the exception here; they're the rule.
Says Saint Luke's Elks Rehab physical therapist Cheryl Batty, "All the symptoms of Parkinson's improve. And that's the beauty of it."
Batty was instrumental in bringing Pedaling for Parkinson's to Boise. She has been following research out of the Cleveland Clinic showing brisk bouts of cycling temporarily – but vastly - improve the symptoms of Parkinson's.
"We get off the bike and we see a decrease in that tremor in folks," says Batty. "So we're not even using the upper body yet it takes across the board those Parkinson's symptoms and improves them all."
In a Parkinson's patient, a neuro-transmitter called dopamine slowly stops being produced. Dopamine helps control body movement and emotions, and it's our "gitty up and go," as Batty puts it.
Lack of dopamine leads to the tremors and jerky movements you so often see in people with Parkinson's, and also makes people feel like they're moving through quick-sand.
The Cleveland Clinic research
found that sustained, high-intensity exercise helps "open up" dopamine receptors in the brain, which allows medications targeting those receptors to be better absorbed. And the level of exercise does matter. "Staying at a sustained rate 30-40 minutes at a time…we open up the neuro-pathways that accept dopamine so those medications we're taking, we're putting them to better use," Batty explains.
She says it's important to note it's the combination of medication and brisk exercise that makes this treatment so effective. But any treatment against this progressive neurological disorders a huge win, since as Batty says, "This is a disease that you can fight. Unlike many of the other neurological diagnoses you get, you can actually fight this one."
Even better? Patients who put in time on the bike need less medication than those who don't. "We want to keep our medication at the lowest level possible," Batty says. "And through exercise and being able to use dopamine more effectively we can."
And for anyone wondering if this might work for them, Simmonds would say the proof is in the pedaling. "It's a wonderful thing with this disease that we do have the ability to fight it, because otherwise you're just…this person with this horrible illness. But we are really able to fight back and that feels good."
For now, there are only two local YMCA's hosting Pedaling for Parkinson's classes: the Downtown Y and the West Y. The class, though, is just one component of an entire program for Parkinson's patients called Delay the Disease.
Click here
for a list of Pedaling for Parkinson's class times and to get more information on Delay the Disease.
A former PE teacher diagnosed with Parkinson's disease in her 30s has thanked three "knights on their bikes" who spurred her on to complete a gruelling cycle ride around Loch Ness at the weekend.Leona Braund took on the 66-mile Etape Loch Ness event on Sunday to raise money for Funding Neuro, a charity which funds research into advancing treatments and cures of brain-related conditions and diseases.
And along the way she met three cyclists who helped her to complete the journey in 5hrs and 15 minutes.
The first knight, who remains unnamed, helped her on a testing hill near Fort Augustus. She was later met by firefighter David Dugdale and, with 15 miles to go, Stuart Smith, whose sister also has Parkinson's.
Mrs Braund said: "They were my knights on the bike who helped me on my journey.
"They made my journey so much more pleasant, much more personable and without them it would have taken me longer. The cycle itself was more of a test of mental toughness than physical ability."
Mrs Braund said she is now just £250 short of meeting her fundraising target of £2,000 for Funding Neuro.
She was was 33 when she began noticing the symptoms of her condition which included a tremor in her left hand and the freezing up of her feet when trying to walk.
It wasn't until a school sports day in the summer of 2012 that she was diagnosed, aged 38, and was forced to give up the job she'd loved doing for 16 years.
Leona's positive attitude led her to focus on exercise as a good way to manage her condition.
Shortly after her diagnosis she became involved with Funding Neuro.
And the mother-of-two, now aged 43, recently became the charity's first community ambassador for the Highlands and Islands.
Funding Neuro has seed-funded a major ongoing Parkinson's clinical trial using new technology, Convection Enhanced Delivery, to give targeted delivery of medication to a brain tumour.
Anyone who wants to donate can do so at https://www.justgiving.com/fundraising/LeonaBraund
PICTURE:  Hillary Gavan/Beloit Daily News (From left): Michael Kasper, George Vestal (shown in back) and Ed Skwarlo are shown in the Pedaling for Parkinson's cycling class at the Roscoe branch of the Stateline Family YMCA on Wednesday morning. Research has shown high speed bicycle pedaling slows disease symptoms. The class is a great social support for participants and a lot of fun.
ROSCOE — With April being Parkinson's disease awareness month, those at Pedaling for Parkinsons cycling class are sharing the benefits of the class and inviting others to partake.
The class meets three times a week — Mondays, Wednesdays and Fridays from 11 a.m. to noon — at the Stateline Family YMCA Roscoe branch, 9901 Main St. There is no cost for members or nonmembers. For more information contact Ann Hankins at 608-365-2261.
"Exercise is important. The more you exercise, the better you feel and do. People who don't exercise at all can get very stiff," Michael Kasper said.
"If you really work at it, you can notice the difference," said Ed Skwarlo of South Beloit. "I've been working on it for five years, and my symptoms haven't increased. I think it's beneficial."
Participants said the class not only offers camaraderie, pizza parties and lunch outings, but also slows disease progression. Research has shown a 35 percent reduction in symptoms when people bicycle, optimally 80-90 revolutions per minute. Because of the stability of a stationary bicycle, it can be an ideal exercise for those struggling with a loss of balance.
Parkinson's disease is a neurodegenerative brain disorder which can affect movement. Although it develops slowly, symptoms may include tremors or shaking, loss of balance or stiffness, although class participants Mary and Michael Kasper said its a "designer disease," affecting everyone differently.
Although Parkinsons disease usually develops after age 60, 15 percent of those diagnosed are under age 50, according to information from the National Parkinson Foundation.
Mary Kasper explained how her husband Michael was diagnosed in 2009 and then started in the class. The disease began with Michael having stiffness and some shuffling of his feet. However, on Wednesday, one wouldnt know hes struggled while atop the bike. He, like the other participants, are fierce pedalers, listening to oldies tunes to some recent tunes selected by instructor Jennifer Lemke.
Skwarlo said he does ski walking with walking poles when not cycling and also exercises his mind with the Grinnell Hall Senior Centers theater group. Some of the other class members are in a boxing class designed for those with Parkinsons through another organization and/or do other forms of exercise most days to keep symptoms at bay.
Skwarlo said he noticed symptoms of Parkinsons five or six years ago when he got a tremor in the right hand, balance problems and increased stiffness. Although he had to quit running because of balance issues, he soars on the bike.
For an incentive, class participants track miles with some of them reaching milestones by distance such as Route 66 or Hawaii.
Although Skwarlo was confused about what the disease entailed when first diagnosed, he now sees it as a challenge.
"God doesn't make junk. You have to be an example to other people and not give up and call it quits. Actually, it can be a challenge," Skwarlo said.
George Vestal, 75, was diagnosed 23 years ago and is cycling as well as boxing. He said he comes for the fellowship. Fellow classmates say he is the jokester of the class, and can lift an exercise bike.
The group also has social aspects like pizza parties, lunches at Sophias and the sharing of the latest information on Parkinsons disease such as medication and diet.
Most recently the group is voting on quotes for a commemorative brick to be placed at the new YMCA in downtown Beloit. On Monday the group was planning a tulip drop at Kinnikinnick Creek.
Instructor Lemke said the class brightens everyones day. Everyone likes to tease each other while getting in a good workout. Recently, interest in the class is growing as more people are coming to get information about it and join.
"The classes are full," she said.
A surprising new treatment is helping sufferers of Parkinson's Disease to not only pause the effects of the illness, but even to reverse them.
Researchers in the United States have found that riding a bike is helping patients stop the symptoms of the disease.
It can even do something medicine can't: slow the disease's progression.
Jud Stover has suffered from Parkinson's for the past seven years, but it doesn't slow him down.
Jud Stover says Parkinson's isn't slowing him down.

He doesn't have tremors, he doesn't have muscle stiffness, his feet don't shuffle when he walks and it's all thanks to the new cycling therapy.

"I said: 'well it's not curable, but if you can slow it down even more and better by doing this stuff, sign me up'," Mr Stover said.
Mr 
Stover during a cycling therapy session. 
Patients say the therapy is a big help.

Experts discovered cycling can help increase certain proteins in the brain, which help movement and cognitive function.

Researcher Jay Alberts said the cycling "changes the brain's functioning" in a similar way to being on medication.

"When you have medication, you have an increased activation in this area," he said, pointing to a part of a brain on a scan.
"You have a similar increase in activation following exercise, exercise is medicine."
To get the benefits, patients cycle three times a week, for 45 minutes at 80 to 90 RPMS.
Parkinson's patient Paul Shinoda said: "It was like turning on a light bulb and that was the difference between pedaling and not pedaling".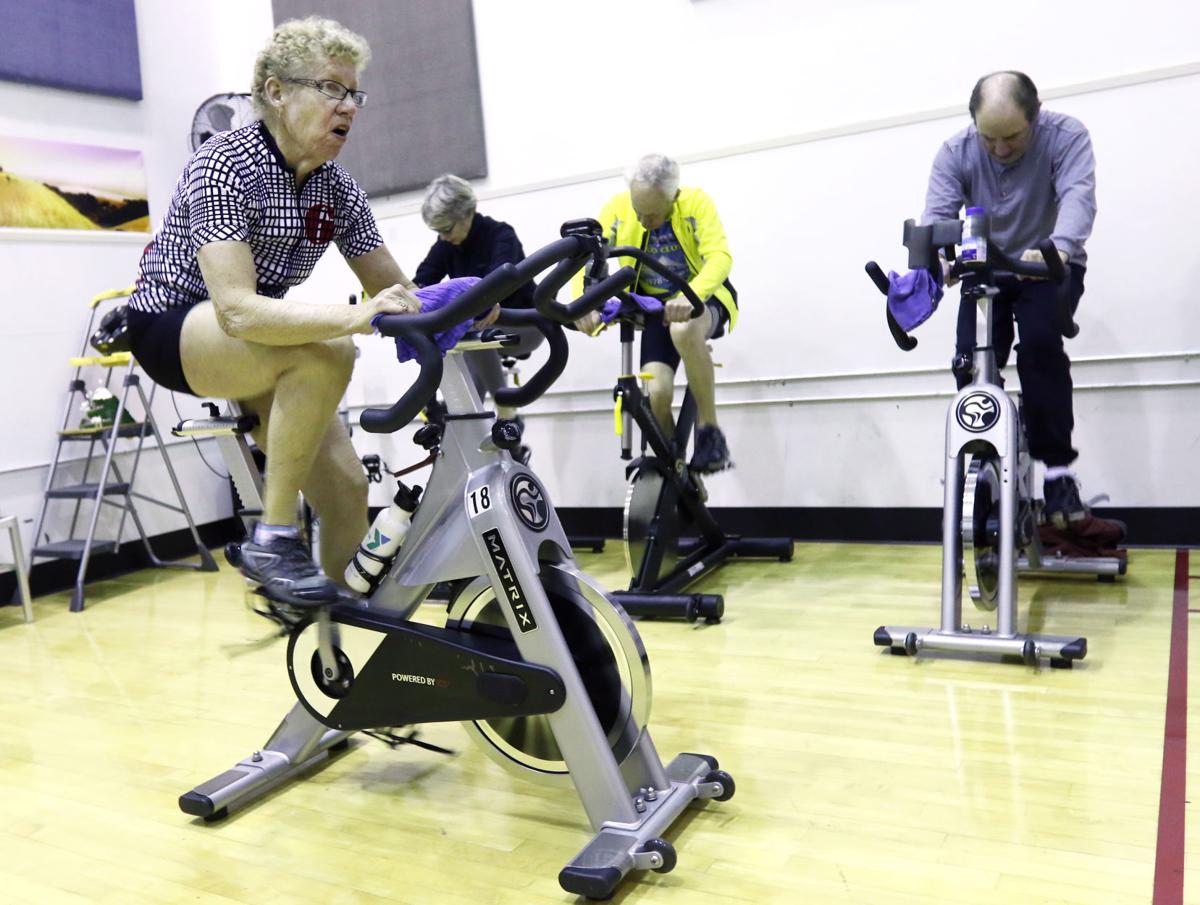 Sandy Hendy was diagnosed with Parkinson's disease in 2005, at the age of 52. It started off with numbness of the feet until it progressed to tremors and later delayed movement.

Hendy, now 64, of Roseburg, has been an active person all of her life. She has discovered cycling has helped alleviate some of the symptoms of Parkinson's as she learned to accept the disease over time.

"I've seen the benefits of biking as it has helped Parkinson's patients, myself in particular," said Hendy.

She added that people with Parkinson's are low in adrenaline and dopamine. However, exercising increases adrenaline, thereby allowing more muscle movement for people who suffer from the disease.

Hendy is a fitness instructor for Pedal Plus, a bike fitness class to help ease symptoms of neurological conditions such as Parkinson's, fibromyalgia and multiple sclerosis, to name a few.

She started it with the intention of helping people deal with their symptoms in a healthy way. She said that the class "advocates and pushes you to push a little harder and stronger so that when you do leave the class, you feel a whole lot better and your self esteem goes up."

The class aids in helping people with neurological disorders improve balance, reduce tremors, increase strength and refine motor coordination.

Ralph Patterson, an active member of Pedal Plus for a year, said that cycling has enriched his life in many ways.

"Any kind of exercising with this kind of disease helps you, especially socially." he said. "You lose a lot of confidence when you have this disease so anything you can do to build your confidence in social settings is important."

Since suffering from Parkinson's, Patterson has had to consciously think about each step he has to take. Prior to dealing with the disease, stepping and walking were subconscious movements. After rigorous cycling, he said that it is much easier now to implement muscle movement with less effort.

Pedal Plus classes are held Tuesdays and Thursdays from 10 to 11 a.m. at the YMCA near Stewart Parkway, USA. They are free to anyone who wants to participate. For more information, call 541-430-1286.
It's a great opportunity for people with parkinson's to actively join in this event. 
The organisers have ensured that the track is flat for the most part, so that all people will be capable of joining them in this adventure.  It is being organised through an adventure company 'Inspired Adventures'.
The ride is well supported.  Inspired Adventures organises the following;
All international flights 
All transfers as per itinerary in private air-conditioned vehicle 
Twin-share accommodation in hotels and basic guesthouses 
Inspired Adventures Team Leader 
Local English-speaking guide 
Bike 
Bike mechanic and support vehicle (shuttle bus) on cycling days 
All meals as per itinerary 
Water and snacks on cycling days 
All entrance fees as per itinerary
If you had asked Peggy Phillips 20 years ago on her 50th birthday whether she would be spending her retirement years cycling for exercise, she likely would have raised a skeptical eyebrow and shook her head.
Phillips didn't learn to ride a bike until she was 30. Six months after starting to cycle, she gave up the recreation because of a bad spill.
And, yet, here she is twice a week at a local YMCA, cycling for her health and to slow down the progression of Parkinson's disease.
"I made a New Year's resolution for Peggy, to take care of myself and to do what I have to do to improve my quality of life," she says.
The resolution led her to lose weight and eat healthy foods, to take a yoga class and enroll in the special Parkinson's Wellness Recovery (PWR!) and Pedaling for Parkinson's program that was started late in 2016 at four sites of the YMCA of Greenville. So far about 20 people have signed up for the program.
Within just a couple of weeks, Phillips could see physical improvements. "I feel much more fluid and limber than I ever have, after yoga, and after cycling, I feel the energy. I haven't felt this good in years," she says.
Phillips' balance — a big issue in Parkinson's disease — is also improving.
"If I start to trip, I can catch myself," Phillips says. "I have so much more balance, and I can't believe it's only been this short time."
Parkinson's disease is a progressive neurological disorder that can result in minor symptoms, sometimes including hand tremors, for a decade before a person is diagnosed, says Laryn Weaver, executive director of the Greenville Area Parkinson Society (GAPS), which is working with the YMCA to get the word out in the community about the PWR! and Pedaling for Parkinson's program.
An estimated 5,000 people in Greenville have the disease, Weaver says.
Cycling, yoga, boxing, and dancing all help slow the disease's progress. The key is to work with experts who are trained to work with Parkinson's patients, Weaver says.
The PWR! program helps alleviate Parkinson's symptoms by helping people produce high physical effort with forced use and intensity, repetition, and making them think, says Leslie Knox, wellness program coordinator and personal trainer at the GHS Family YMCA in Simpsonville.
"Cycling does a lot for them, as well," Knox says. "It works on their balance by having them sit on the bike, increase muscles in their legs and increasing their stamina."
The YMCA program has 14 coaches trained by a National Parkinson's trainer to work with PWR! and Pedaling enrollees. Honey and Doyle Yates funded the training program.
Doyle Yates is a lifelong YMCA member and has served on the Caine Halter Family YMCA's board, as well as led the organization's Open Doors Annual Giving campaign.
"As a Parkinson's patient myself, I have a keen interest in this program and to help others that have Parkinson's," Doyle Yates says. "It was important to Honey and me that the YMCA be able to offer this program to our community."
Pictured:  Dave Parker, Terry Lenninger,
Don Huss and Barb Warren
participate in the cycling class at the 
Bettendorf Family YMCA. The 
four take part in the Delay the Disease 
Parkinson's disease
Article by Martha Garcia, marthagarciawriter@yahoo.com 
As the sweat drips down my face, I anxiously look up at the clock and realize I still have 45 minutes left in my hour-long cycling class. The workout has been killer.
My goal for the past five months has been to build up my endurance and work on my breathing after I lost a vocal cord nerve to cancer, which has restricted my airway and my ability to run. Doctors at the Mayo Clinic in Rochester, Minn., encouraged me to try alternative cardio workouts to learn to control my breathing in hopes of running again.
Little did I know, while I was overwhelmed at times in the class, and I felt like I was among professional cyclists, I actually was with new friends with bigger struggles. On Mondays and Wednesdays, I had been pedaling at full-speed with inspirational people with Parkinson's disease.
The group participates in the YMCA's Delay the Disease program, which encourages them to cycle. Delay the Disease is national fitness program designed to empower people with Parkinson's disease. Its purpose is to help them take control of the disease's progression with daily exercise. It also helps participants with social skills, gain confidence in a crowd, improve handwriting, move with normality, get out of bed, rise from a chair and dress independently.
It currently is offered at the Bettendorf Family YMCA, and soon will be offered at the Two Rivers YMCA in Moline.
In 2012, a study released by the Radiological Society of North America revealed that faster pedaling on a stationary bike led to greater connectivity in brain areas associated with motor ability. The study was done after Jay L. Alberts, Ph.D., neuroscientist at the Cleveland Clinic Lerner Research Institute in Cleveland, in 2003 rode a tandem bicycle across Iowa with a Parkinson's disease patient to raise awareness of the disease.
The patient experienced improvements in her symptoms after the ride.
"It gives me a regular workout that I would not normally do on my own," said Barb Warren, a retired teacher who was diagnosed with the disease five years ago. "The class has given me social interaction, an important piece when you have Parkinson's. It has given me friendships that I look forward to seeing, and has helped me with energy levels. I feel more optimistic about life."
Parkinson's disease is a chronic and progressive neurological disorder where the brain gradually becomes damaged. Symptoms of the disease include shaking, tremors, muscle stiffness and slowness. As the disease progresses, cognitive and behavioral problems occur.
"I have learned when I am exercising, I am not judging myself against other people," Ms. Warren said. "Now, I think because of Parkinson's, my attitude has changed. I am going to do the best I can and not compare myself to others. I did that for years. That's a big step for me."
It is estimated that more than 10 million people worldwide are stricken by the disease.
"This has been one of the best experiences of my life," said Terry Lenninger, who was diagnosed with the disease in 2008. "If there are people with any disease, it is beneficial to get exercise.
"The program makes it easy for anyone to come in and feel welcomed. You start to know people. You have the support from the others going through the same things you are. We hold ourselves accountable to get here. Overall, it is great to build strength, rebuild muscle structure and make new friends. Anything we can do to move forward helps."
YMCA Delay the Disease trainer Marli Apt said that exercise "can help delay onset of symptoms and can retrain (a participant's) brain. They are working to function more normal. Exercise can help them get more movement."
Ms. Apt said the key is to get people moving.
The days I find it difficult to get to cycling class, I remind myself how great it is to be alive, to move and to have friends that encourage me. The warm smiles of Terry, Barb and the rest of the Delay the Disease participants give me hope and remind me not to give up.
"I try and rearrange my schedule to be at the YMCA four days a week," Mr. Lenninger said. "It helps me move better in my day. Like the other day, I worked outside in the heat for a few hours. You don't have to redo the world; just take a breather when you need to and smell the roses, then go out and try it again. It's what you do when you have Parkinson's."
For more information about the Delay the Disease program, visit
delaythedisease.com
.