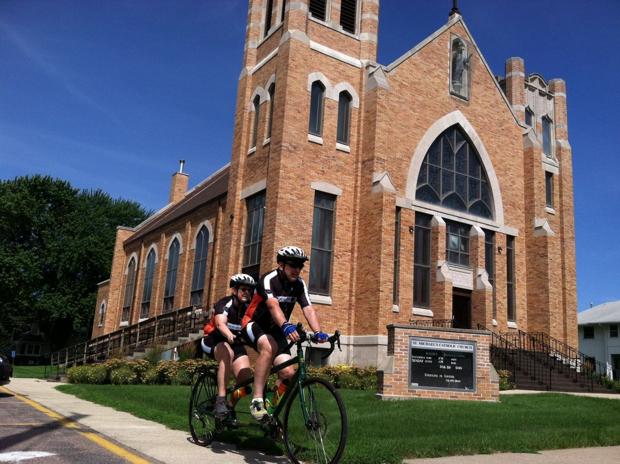 Charlie and Carol Clupny, of Hermiston, Oregon, pedal away from St. Michael's Catholic Church in Kingsley, Iowa, on Sunday, following a 10 a.m. Mass that occurred during the couple's ride from Sioux City to Storm Lake on the opening day of RAGBRAI.  RAGBRAI, The Register's Annual Great Bicycle Ride Across Iowa, is an annual seven-day bicycle ride across the state. Heading into its 43rd year, RAGBRAI is the oldest, largest and longest bicycle touring event in the world.
The couple raises money and awareness for those with Parkinson's disease. Carol was diagnosed with Parkinson's seven years ago. Cycling helps mitigate the effects of the disease.
Charlie and Carol Clupny huff and puff and churn their legs in unison for nearly 30 miles on Sunday morning before reaching the south ramp of 100-year-old St. Michael's Catholic Church here.

The Rev. Mark Stoll welcomes nearly a dozen bicycle riders who step off the official route of RAGBRAI XLIII to join 20-some parishioners for morning Mass.

"We'd usually have more parishioners here, but, because of RAGBRAI, we are a little thin," Stoll says.

The Knights of Columbus are selling waffles; the women of the church peddle trail mix and water. Other members of St. Michael's hawk power drinks and pies for school groups, youth athletic teams and the Kingsley Volunteer Fire Department. You name the cause, there's a RAGBRAI fundraiser that fits.

Which is where the story of Charlie and Carol Clupny shifts into this tale. These cyclists bring energy, faithfulness and a story to Iowa from their home far away in Hermiston, Oregon.

"We're on the Pedaling for Parkinson's team," Carol says moments after finishing "Let There Be Peace on Earth," the closing hymn for Sunday's Mass. "I was diagnosed with Parkinson's seven years ago. Cycling keeps me moving."

The couple has ridden RAGBRAI once. They had to return, a bit smitten with the hills and hospitality they found among Iowa's churches and community centers.

"We've ridden 30 miles this morning, we have 40 miles to go," Charlie says. "We've asked the priest if he would bless us."

Stoll returns to the altar, an area the couple photographs for its beauty. Stoll asks about Carol's battle with Parkinson's. Stoll bows with them in prayer and asks they find continued safety and good health along the way.

"A doctor rode RAGBRAI with a friend who had Parkinson's years ago," Carol explains. "He came back after the ride and researched, finding that forced exercise mitigates the effects of Parkinson's."

The symptoms, she says, can decrease by 37 percent if a cyclist afflicted with Parkinson's pedals at 80 to 90 RPMs for 40 minutes three times per week.

"Carol can walk much better after she bikes," Charlie says.

"My tremors decrease after cycling," she adds as she sticks out her right hand. "See, I have very little tremor now. And with Parkinson's, my handwriting gets extremely small and tough to read. After cycling, my handwriting is larger and much more legible."

Armed with her cause, Carol Clupny raises money, to date totaling $2,320 for RAGBRAI, tops on her team. Funds raised will help purchase and set up stationery bicycles in YMCA facilities across the country, an effort detailed at www.pedalingforparkinsons.org.

Blessed and refreshed, Charlie and Carol Clupny take one last look at magnificent St. Michael's Church. As they pick up their helmets near the south ramp, Charlie talks about a "double-amputee" they came across on RAGBRAI.

"He's a double-amputee and he's one with us on this ride," Charlie says.

His wife, a woman who won't let Parkinson's get her down, adds, "We're elated, grateful to be riding on RAGBRAI. We assume he feels the same."

With that, this "Pedaling for Parkinson's" tandem pushes away from the church, stopping only for directions to the Kingsley Community Center. For that's where Dad's Belgian Waffles are served by the Knights of Columbus.